ADMISSION IN AUSTRALIA
Instructions about the method to get admission in Australian Universities
Admission Tests on English Requirement
For any course that belong to higher education category, a student must score at least six out of nine in IELTS - International English Language Testing System conducted by British Council - http://www.britishcouncil.org/. Even for vocational studies, trainings and for secondary level studies you must have at least score between 5-6 in IELTS. However, it depends on the course you have chosen.
Besides IELTS, the students who have scored at least 213 out of 300 in TOEFL are also generally accepted for admission in Australian Universities. Some Universities even accept Cambridge Certificate of Proficiency in English (Grades A or B).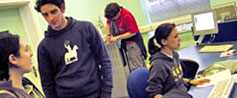 Cost and Fees
Tuition fees vary from AUD 6000 to AUD 7000 for a six-month graduate certificate course to over AUD 30000 per annum for a medical degree. Most full time degree and post graduate degree cost between AUD 10000 to 20000 per annum. In vocational education and training, costs vary from AUD 3000 to 4000 for a 20-week certificate course to over AUD 12000 per annum for laboratory or computer intensive advanced courses. The Australian government requires that international students and their families pay for health insurance in Australia through the Overseas Student Health Cover (OSHC) Scheme. Health care costs in Australia can be quite expensive. The cost of health insurance may be around $300 for a single person.
Australia is a great option not only in terms of the education standards but because it makes great economic sense as well.
Institutions will advise when to pay your tuition fees and acceptable methods of payment.
Universities


Foundation Studies
$A9000-$A14,000 a year
Such as university entrance, preparatory and bridging courses
Undergraduate
Bachelor Degree
$A10,000- $A13,500 a year
Such as courses in arts, business, economics and law
Laboratory-based Bachelor Degree
$A11,000- $A16,500 a year
Such as science and engineering courses
Postgraduate
Graduate Certificates
Graduate Diplomas
$A9000- $A16,000
Masters Doctoral Degree
$A11,000-$A18,500 a year


Vocational Education & Training


Certificates I - IV
$A5500-$A18,000 a year
Diploma
Advanced Diploma


School


Secondary school
$A6000-$A13,000 a year
Primary and junior secondary schools
$A5000-$A11,000 a year


English Language & Training


Varies significantly depending on the course duration or institution
$A3500-$A13,500
See Also..............................................................................................
Living Cost | Visa Process | Financial Aids | Universities List
Admission information for other countries:
Admission in USA | Admission in UK | Admission in Australia | Admission in Canada | Admission in Japan | Admission in Germany | Admission in Netherlands | Admission in Ireland | Admission in Russia | Admission in New Zealand | Admission in France | Admission in Switzerland | Admission in Cyprus | Admission in Poland | Admission in China | Admission in Singapore | Admission in Italy | Admission in Spain