BEFORE YOU GO TO STUDY ABROAD

If you've decided to go abroad for studies then you have to start preparing your plans.

Choose the Course
While choosing the course you plan to take, be sure that you are really interested in that course. Try taking the full advantage of the nation where you've planned to study in. If you're planning to study in US, then the American History or some similar like that may be the most advantageous course that you choose because about US history, no other country can teach better than US itself.

Arrange Accommodation
Deciding where to stay depends on what type of course that you are choosing. If you're planning to take the course related to language or culture of that particular nation where you are going the it will be better for you to stay with the Host Family. This will help you to learn the language, culture and even day to day live of their society.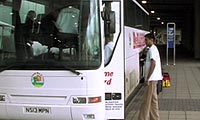 But if you are planning take technical courses then it will be better for you to stay in shared compartments. This will minimize your living cost.
Travel Documentation
Make sure that your passport is valid at least for six months after your return date. If not so, apply for renewal. If you still don't have passport then apply for it. Also prepare other documents that may help you to get visa as soon as possible.
Keep in touch
E-mail service is the Cheapest and Quickest way to stay in touch with friends and family from the country you are studying in. So it is recommended to have one Email Account. If you don't have one, make it free with various service providers like HotMail - www.hotmail.com, Yahoo - mail.yahoo.com, Gmail - www.gmail.com etc. Be sure, these days internet can be accessed from every corner of the earth. Even the university or college where you are planning to study may provide you the free internet service. Don't forget to distribute you e-mail address among your friends and family so that they can contact you when they need.
Purchasing a Calling card before leaving for abroad is also not a bad idea.
Collect more Information
Collect information as much as possible about the country for which you are leaving. Make contact with the friends or students who are already there to know about the social condition, climate and other information like Job Opportunities there. Talking about United States, there is shortage of part time jobs in States like - Alabama. So Be Careful, you might have problem on bearing your Tuition Fees and other Living costs.